"I fell in love with those lights while decorating my small apartment in Paris. They were exactly what I was looking for to give a personalized warm feeling to my new home! There was so much colors to choose from, I couldn't set my mind on a color combination and had to go home empty handed … I was so disappointed that I went back the next day to buy some! The result was amazing and exactly what I expected, I matched the colors of my paint and furniture and the lights fit perfectly as it was meant to belong there… that is when I became addicted! Back in Dubai, I wanted to buy them as gifts for my friends to let them know how amazing those lights were but couldn't find them anywhere. After making sure nobody was selling them in this part of the world I decided to make the magic happen and created my company The Fairy Lights Factory! It was a real success!
When my husband told me we had to leave Dubai for his job I was very disappointed…but New York was such an exciting place to discover! I managed to keep the business running (in Mercato Mall – Jumeira 1-for those who know Dubai) and here we are in New York. And the story repeats itself : no place to find the lights here in New York … no problem, I will make them available for you. Enjoy!!"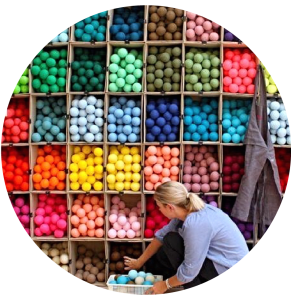 Carine Le Garrec is a 40 years old "Mompreneur" of 3 kids and also a flight attendant for a well known french airline. She started The Fairy Light Factory in April 2012 while living in Dubai … and decided to continue now in New York.